Details

Last Updated on Friday, 15 October 2021 12:42
DEI Realtime Energy Monitoring
---
The DEI Pin-Energy Monitoring Network is an effective tool to get a detailed view of the energy flow through the various areas of our department. The measurements we acquire from this system are useful to perform research on typical energy consumption patterns, which help in designing and testing model-based control algorithms including prediction of future consumption patterns (energy demand).
A diagram of the monitoring network is shown below: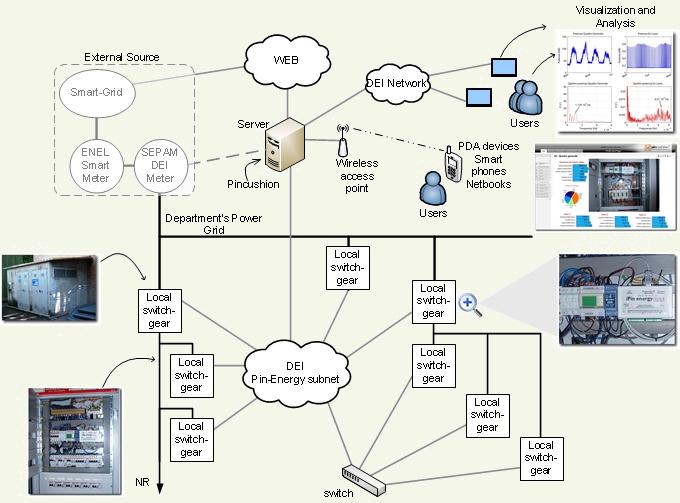 Technical details
---
We have set up a network of PIN energy modules, connected via Ethernet. These are acquisition and communication modules provided by Hyphen, which are embedded devices for the measurement and communication of a number of electrical quantities acquired inside the Department's switchgears. Some of the monitored quantities are:
active, reactive and apparent powers;
RMS values of voltages and currents;
power factors;
absorbed energy and related costs.
PIN energy modules are installed in some strategic points of the internal DEI power grid (see the circled numbers in the map on the right for their position within the DEI buildings), in order to dispose of a well defined view of gross power consumption over the entire Department, also achieving a basic disaggregation of energy flows. The map on the right shows the Department's map indicating the position of installed measurement points. Examples of monitored energy aspects are those related to heating/cooling equipment, lighting, plugged-in apparatus, and laboratories. The PIN energy devices communicate over an ordinary IEEE 802.3 Ethernet network. Collected data are sent over the network to a server, which provides for the storage and the dedicated Web-based software PINcushion allows the authenticated on-line user to communicate with the measurement modules, to view and download stored data and arrange the collected electrical information into diagrams such as, e.g., plots, reports, and pie charts. Finally, on-line users can also send instructions to the measurement points, allowing them remotely control actuators and switches, to a certain degree.
Feel free to inquire for more technical details on our monitoring system.
DEI MAP SHOWING THE COLLECTION POINTS ->